Steigenberger Graf Zeppelin, Stuttgart
The "Steigenberger Graf Zeppelin" is one of the top addresses in the swabian metropolis of Stuttgart.  As well as the historic glamour of the "schlossplatz" (castle square) and the "Königstrasse" shopping mile, which are only a few steps away, the Stuttgart region – birthplace of the automobile – also attracts visitors with famous companies such as Daimler, Bosch and Porsche.
The hotel inspires guests with a mix of timeless elegance and modern design.  The 117 luxurious rooms and 38 suites not only offer mere comfort, they also exude an ambiance in which you will immediately feel at home.  With the Zeppelin day spa we have created a retreat high above the rooftops of Stuttgart. Spanning 500 m², this luxurious spa takes you away to a peaceful oasis.
Three restaurants offer Swabian kitchen to award-winning cuisine, an exclusive cigar lounge, a breathtaking spa, 11 modern conference rooms: the Steigenberger Graf Zeppelin is at the puls of the city.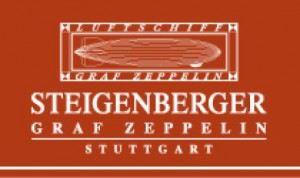 Steigenberger Graf Zeppelin
Arnulf-Klett-Platz 7
70173 Stuttgart
T: +49 711 2048-0
F: +49 711 2048-542
E: stuttgart@steigenberger.com
I: http://de.steigenberger.com/Stuttgart/Steigenberger-Graf-Zeppelin
[spyrowebz_gmap address="Arnulf-Klett-Platz 7, 70173 Stuttgart, Deutschland"]