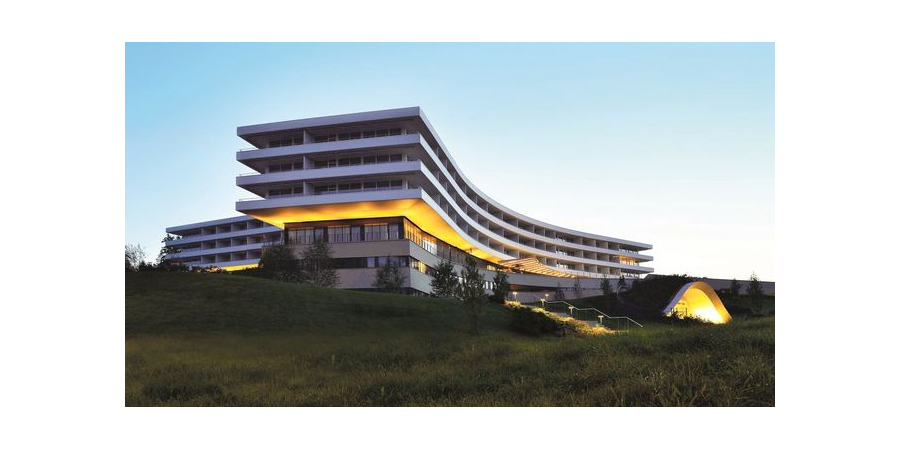 Oberwaid – Kurhaus & Medical Center
The 21st century health resort concept
Outstanding medical competence combined with a wealth of world-class hotel services – the newly built Oberwaid – Kurhaus & Medical Center provides an authentic atmosphere for this trendsetting alliance. With unmistakable style and a personal touch. And a feel-good ambience throughout!
We combine sustainable medical treatment options with all the services you would expect from a top luxury hotel. Serving this purpose, we have developed our holistic medical concept that perceives health as a continuous process of fighting off disease and illness. For this reason, our treatment options focus not only on aftercare and therapy, but also and in particular on prevention and individual health management. We have committed ourselves to the ambitious challenge of promoting optimal health – both physical and mental  – for each individual, since these two are the prerequisites for maintaining a high quality of life.
The most important aspect in this context is the early detection of individual health hazards, and – once potential health risks have been identified – appropriate countermeasures taken with your consent and cooperation. If you already suffer from a health problem we will pave the way for a speedy recovery. In other words: our approach moves away from disease-oriented medicine towards health-oriented medicine, always keeping sustainability in mind. A close interdisciplinary cooperation of distinguished medical specialists at the Oberwaid Medical Center ensures high-quality healthcare and permanent innovation. Our physicians work hand in hand with experts from the fields of nutrition, sports science, psychology and physiotherapy, just to name a few.
The medical core competencies of the Oberwaid focus on nutrition, metabolism and mental health – the keystones for a long and healthy life. Apart from specific diagnostic clarification and therapeutic measures, the medical concept focuses on health education enabling our guests to make informed decisions about and manage their own health. Personalized nutrition concepts taught by experienced experts and put into practice in hands-on cooking classes, training programs designed by specialists in sports medicine and geared to individual needs as well as personalized strategies for maintaining mental health and well-being are only some of the preventive treatment options available. We will teach you the best ways of dealing with health problems, disease and risk factors such as obesity, diabetes, osteoporosis, back pain, depression and burnout symptoms in the ambience of a uniquely upscale hotel, a luxury alternative to a traditional hospital setting and a perfect place to promote better health, a sense of wellbeing and total relaxation.
Medical Competence:
nutrition medicine
endocrinology
diabetology
rehabilitation medicine
ergometric exercise testing
body composition analysis
ultrasound examinations
comprehensive metabolic panel including hormone screening
food intolerance testing
customized prevention and/or therapy programs
Oberwaid Kurhaus & Medical Center
Rorschacherstrasse 311
9016 St. Gallen
Switzerland
T: +41 71 282 00 00
F: +41 71 282 00 01
E: info@oberwaid.ch
W: www.oberwaid.ch
[spyrowebz_gmap address="Rorschacherstrasse 311, 9016 St. Gallen, Switzerland"]